Modernizing Crochet Patterns #1: Inspiration from Old Crochet Magazines
This is a repost of my regular blog that you can find at http://susanbeingsnippy.blogspot.ca Now, after quite a few years of crocheting a variety of projects from afghans to slippers to baskets I must toot my own horn in that I can follow a...
This is a repost of my regular blog that you can find at http://susanbeingsnippy.blogspot.ca
Now, after quite a few years of crocheting a variety of projects from afghans to slippers to baskets I must toot my own horn in that I can follow a pattern. Pattern language changes over the years and there is a difference in the names of stitches or variations of stitches. I am quite in awe of someone who took the time to figure out and make sure of the size and what yarns best suit a project but a project from many years back can often do with modernization!
So, now its time for me try my own hand a creating my own designs and ideas translated into useful crochet items…
So I want to take you through my own process here and perhaps you will take on the challenge of the design process…
I have to say this is not a quick process, because sometimes I get to a point in a project and realize I don't particularly like it — which means I have to choose to either continue and try to find a way to motivate myself — that is if I haven't made a glaring mistake that is causing the problem — or to get out my yarn winder and undo what I have done and at the same time, make that yarn into a nice ball so it is available to reuse.
I must say, I am tired of making afghans so I thought I would try my hand at making a child's sweater or jacket.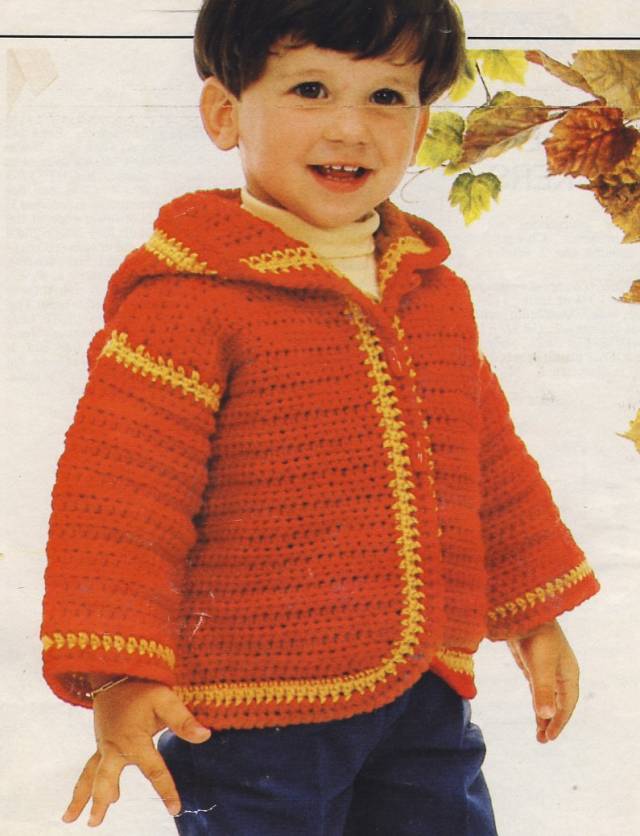 This particular inspiration photo comes from an old (30 years old) issue of Magic Crochet Magazine. And as a PLUG for my ETSY shop, I sell Magic Crochet Magazine issues in my shop as I am able to acquire them, so if you would like to check out some of the listings go to https://www.etsy.com/shop/susanbeingsnippy and check out the books and magazines section.
I am not quite sure what attracted me to this project — perhaps it looked like it would be reasonably easy (Not so MUCH) or because the "hoodie" has become a quintessential part of today's wardrobe.
So far some of the things that I have had to decide when taking on this project but making it my own design is
1st — I didn't like the overall double crochet stitch used — it looks a bit loose and tho warm, the stitch is not pretty and might just be a nuisance with little fingers getting caught up in those spaces between stitches.
2nd — I prefer a squared front, so that eliminated a few increase rows to make that rounded front bottom
3rd — yarn, something that is cosy and many of the modern acrylics are very nice. The other choice with Yarn is weight and 30 years ago, I can't be sure exactly what some of the weights were and how they compare to today's yarns…
Gauge Swatches.
In order to make a decision on what yarn to use I had to try out a few different yarns I had in my stash — I started with a "sport weight" which just didn't work well to my eyes…. Then I tried out a scrap that only gave me about 4 rows of 20 stitches, but I liked it very much so decided to head on over to Michael's Store to pick up some "Loops and Threads" IMPECCABLE, which is a nice squooshy medium weight 100% acrylic. And contrary to the label I decided to use a 4.5mm crochet hook.
And lastly with the yarn — what crochet stitch? I definitely did not like the obvious rows so my first inclination was to go to what I know as the crochet seed stitch. 1 double crochet, 1 single crochet, repeat to end of row, then the next row is 1 single crochet in the previous row double crochet and 1 double crochet in the previous row single crochet….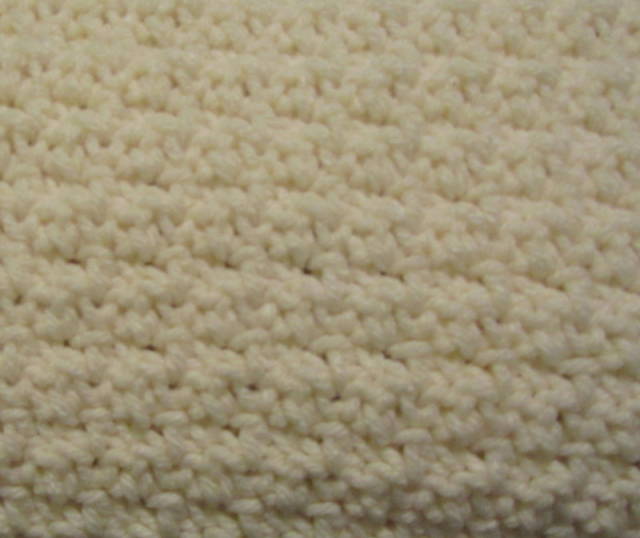 So that is the overall stitch I am using which I think gives a nice 'nubby' texture and using a smaller hook size makes it a bit tighter cloth.
My notes, so far are quite a scribble and a jumble and nothing at all like the nicely printed instructions from the magazine…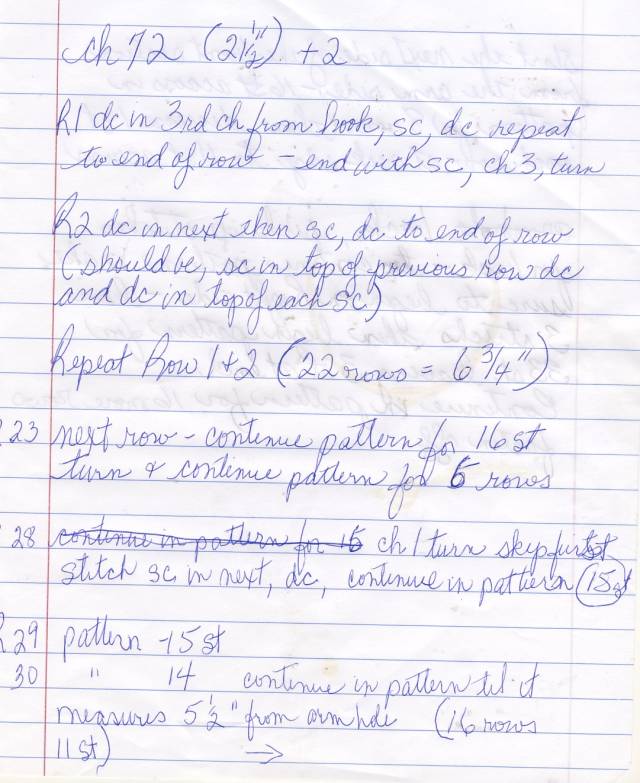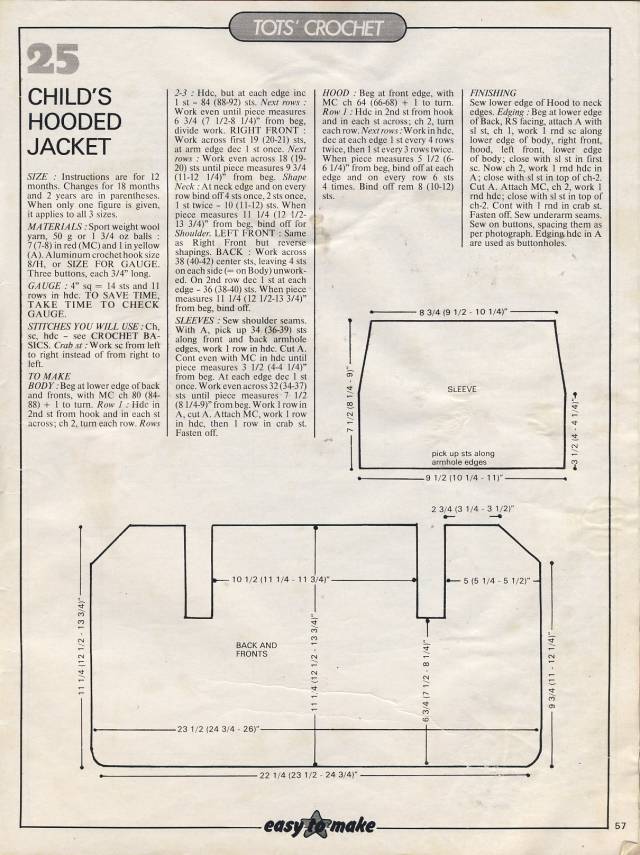 The most important part of the magazine's instructions is the diagram on the page that gives measurements every which way. So working from the measurements my hand written notes reflect the changes in the number of stitches, the changes in number of rows.
So up to this point, I have finished up the main body of the "hoodie". The original pattern here has a border that you can see in the photo — but again I do not plan to run that border all around. I plan to add a row or two so that buttons and buttonholes can be placed on the front…
I expect to be able to have the sleeves and hood done and added within the next week or so and if anyone might be interested I hope to have the pattern instructions sometime soon, or perhaps YOU will find a old magazine with a basic pattern that you want to MODERNIZE.
I gotta say, its not the easiest thing to create an EASY pattern!
Then of course the ultimate test is to find a child to put the finished project onto!
And like most crocheters, knitters, quilters or any other crafter I am looking at the next challenge and I think this also from a old magazine — Mon Tricot 1980 — is perhaps my next!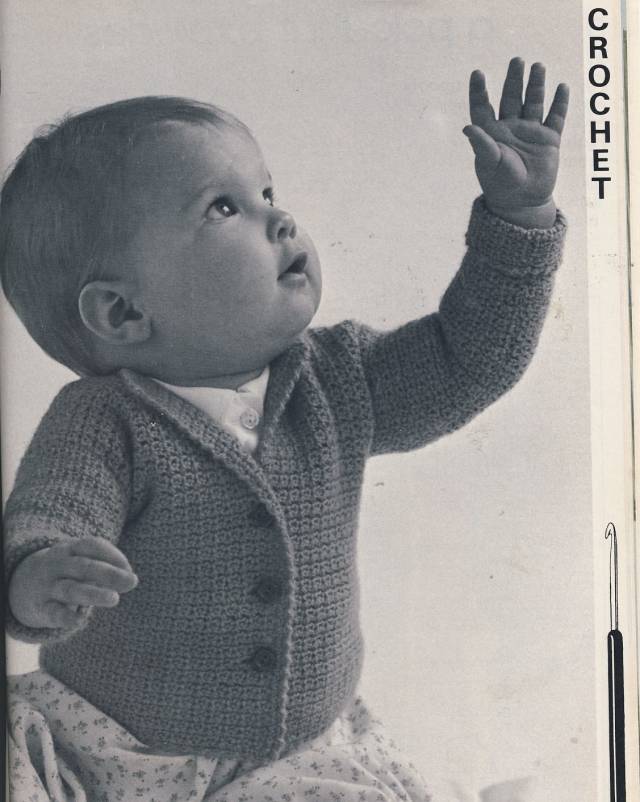 Tags: crochet hoodie diy design crochet seed stitch baby sweater hooded sweater
Part 1: Inspiration from Old Crochet Magazines